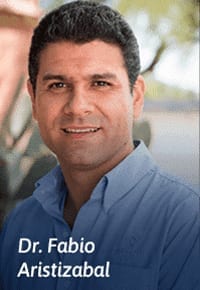 Dr. Fabio Aristizabal
DVM, MS, Diplomate ACVS Equine Surgery and Lameness Specialist
"My passion for equine medicine came from growing up around a family of equine veterinarians. I was around horses and riding all the time. Watching my family members work gave me insights into how to help horses heal and I knew that's what I wanted to do the rest of my life. I enjoy the creative and innovative element that comes with diagnosing and treating these amazing animals."

Dr. Fabio Aristizabal
Dr. Fabio Aristizabal is originally from Colombia, where he completed his Doctor of Veterinary Medicine at the University of Tolima in 2003. Dr. Fabio worked as a private practitioner in Colombia and then attended the University of Viçosa, Brazil to obtain a Master of Science in Large Animal Medicine and Surgery.
Soon after, he immigrated to the United States where he completed a 2-year Equine Medicine and Surgery internship at Weems and Stephens Equine Hospital in Aubrey, Texas, followed by a 2-year Surgical Internship at the Hagyard Equine Medical Institute in Lexington, Kentucky.
Based on his merit during those internship years, he was then invited to University of California, Davis in 2010 to pursue an Equine Surgery and Lameness Residency.
Dr. Fabio is a board-certified equine surgery specialist and Diplomate of the American College of Veterinary Surgeons. He is also a member of the International Society of Equine Locomotor Pathology (ISELP).
After completion of his equine surgery residency, Dr. Fabio joined a Postdoctoral Research Fellowship program at UC Davis. During that time, he published work in the areas of stem cell regeneration for wound healing and neurological diseases, gastrointestinal surgery, treatment of orthopedic infections, novel prosthesis for tie-back surgery (laryngoplasty), as well as identification of biomarkers for foot disease. See publications
His clinical interests include orthopedic and soft tissue surgery, lameness, diagnostic imaging and regenerative medicine. He gains deep satisfaction in helping alleviate discomfort in horses and enabling these athletes to return to peak performance.
Dr. Fabio speaks English, Spanish, and Portuguese. When not helping horses become healthier, he enjoys traveling, cooking from scratch, woodworking, biking, and reading about the latest advancements in new technological gadgets.
Memberships
American College of Veterinary Surgeons
American Veterinary Medical Association
International Society of Equine Locomotor Pathology (ISELP)