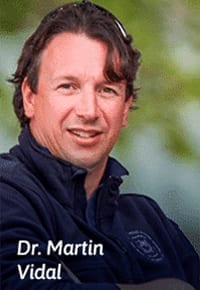 Dr. Martin Vidal
BVSc, MS, PhD, Diplomate ACVS, Diplomate ACVSMR
"As a teenager in the horse racing community, I saw horses who had injuries that prevented them from being able to perform to their full potential. When riding, I could feel that a horse was struggling. I wanted to solve the puzzle of determining the specific location of an injury and repairing the damage so the horse could perform to its best ability and frankly, to save equine lives. That led me to become an equine surgeon."

Dr. Martin Vidal
Dr. Martin Vidal, owner of Cave Creek Equine Surgical & Imaging Center, is Board-certified in Equine Surgery as well as Board-certified in Equine Sports Medicine and Rehabilitation. He is one of the pioneers in the area of stem cell research and its therapeutic application.
Education
Undergraduate and graduate education at the University of Wisconsin.
Completed veterinary training in 2000 at the University of Liverpool.
Private practice in the UK at the Minster Equine Veterinary Clinic and in Australia where he completed his internship at the Goulburn Valley Equine Hospital.
Equine Surgery Residency, PhD, Louisiana State University
Assistant Professor of Equine Surgery, University of California, Davis
During his internship Dr. Vidal frequently treated injured horses with bone marrow transfers, an early form of equine regenerative therapy for tendon and ligament injuries. This experience motivated Dr. Vidal to pursue further post-graduate work in stem cell biology at Louisiana State University, where he also completed his residency in equine surgery.
Research
With 20 peer-reviewed publications and counting, along with 28 abstracts and 75 presentations to his credit, Dr. Vidal brings state-of-the-art skills and education to equine medicine.
Dr. Vidal was among the first to publish on equine stem cell research. In 2004, he worked with the Louisiana State University veterinary clinical faculty and orchestrated the stem cell clinical study, offering the first university-based stem cell services in the country.
Dr. Vidal's work was awarded by the American Association of Veterinary Clinicians and the Grayson-Jockey Club Research Foundation, Inc., and was recognized by the University California-Davis Veterinary Medical Hospital, which extended Dr. Vidal a teaching and clinical position to advance their own efforts in stem cell therapy.
Through his clinical and research work at UC Davis from 2008 to 2014, Dr. Vidal and his colleagues advanced the understanding of equine stem cell biology and application methods of regenerative therapy for tendon and ligament injuries in the horse.
Cave Creek Equine
In addition to being a frequent presenter on equine regenerative medicine at national and international scientific and veterinary conferences as well as in varying equestrian communities, Dr. Vidal has published in both equine and human research journals.
Dr. Vidal and Dr. Ross Rich, who founded Cave Creek Equine Surgical and Diagnostic Imaging Center in 2002, started collaborating on research in the stem cell area in 2014 after meeting at a regenerative medicine conference. Dr. Vidal and Dr. Rich have worked alongside each other at the clinic since January 2015, and in March 2015, Dr. Vidal purchased the practice from Dr. Rich.
Dr. Vidal draws on his academic background as well as his deep passion for horses to work with his clients to find the most effective and least invasive treatments possible accompanied by rehabilitation programs.
Primary Focus
Dr. Vidal's primary clinical interests focus on equine sports medicine and surgery, including:
Lameness evaluation
Imaging (X-ray, ultrasound, MRI, bone scans)
Equine orthopedic diseases
Surgical emphasis on orthopedic, minimally invasive, and upper respiratory procedures
Dr. Vidal serves on the Veterinary and Research Committees of the American Endurance Ride Chapter (AERC) and is an Federation Equestre Internationale (FEI) veterinarian for the endurance discipline.
Dr. Vidal fell in love with horses at the age of 7 and started his equestrian career on a Thoroughbred racetrack in Munich, Germany at age 14. He has a passion for playing polo and owns 5 polo ponies: Shadow, Valentino, Zacara, Paris and JLo.