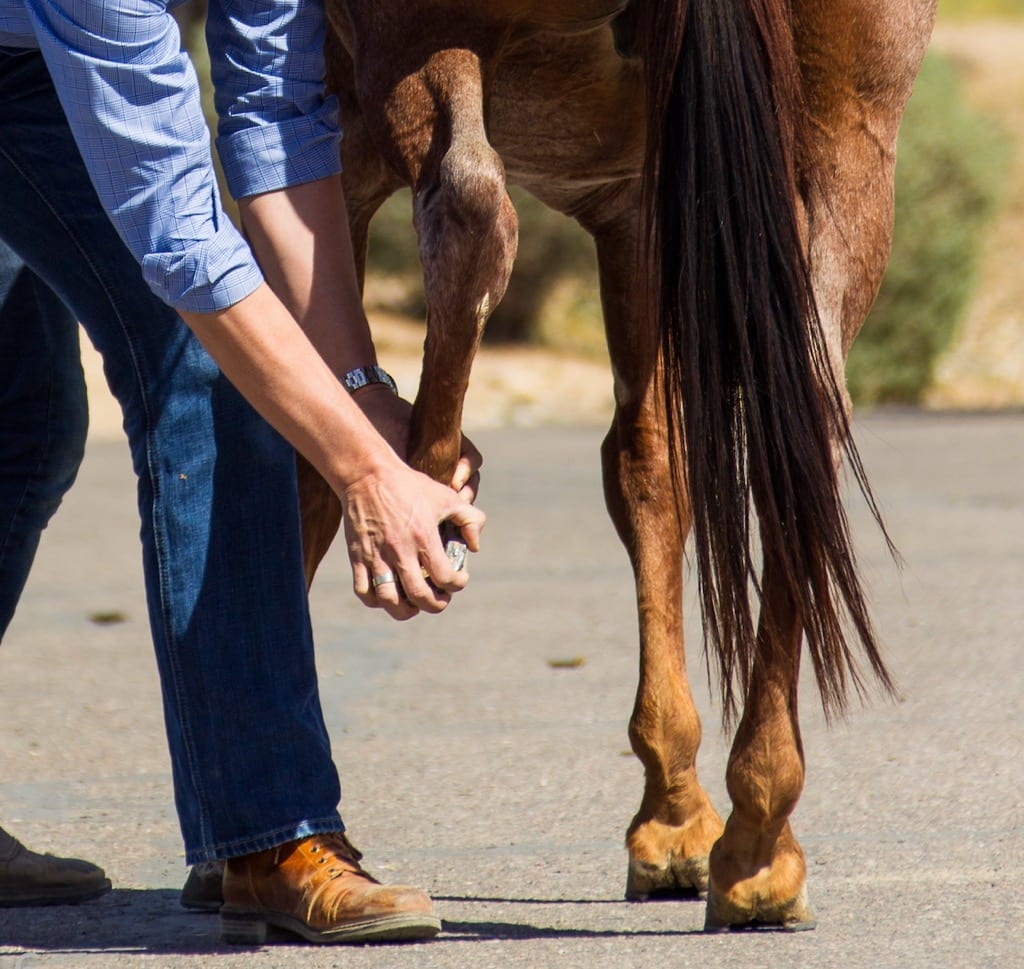 Seeing equine lameness or performance issues? Our veterinarians have advanced training in horse lameness evaluations, equine performance evaluations, equine imaging, and treatments.
Horse lameness evaluations are the foundation of an equine sports medicine practice. At Cave Creek Equine Surgical & Imaging Center, your horse will be assessed by board-certified veterinarians specializing in the areas of sports medicine, imaging, and surgery.
---
Equine Lameness Evaluation
Our Process
We believe it's important that you have an idea of how we evaluate, diagnose, and treat our horses.
6 Steps to Our Equine Lameness Evaluation
Step 1: Replicate the problem
When a horse arrives, we first listen to the owner describe their observations and the conditions under which the horse has demonstrated lameness symptoms. We observe the horse at rest, at the walk, trot, and canter, where required. Depending on the situation, we will have the owner ride the horse so that we can evaluate the horse and rider as they function together.
Step 2: Get Hands-on
We then perform a hands-on examination of the horse. During this lameness exam, we palpate the tendons, ligaments and joints and perform various upper and lower limb flexion tests on all four legs. We trot the horse after each flexion exam to observe any changes in the horse's gait.
Step 3: Start testing
Once we've uncovered the approximate origin of lameness, we start at the hoof and inject an anesthetic nerve or joint block which numbs the foot. Then, we test the horse's gait again. If are no longer signs of lameness in the horse, we've now isolated the location of the lameness. If the nerve block does not improve the gait, we move up higher on the leg until we find the exact location of lameness. The most common equine injuries are typically tears in tendons or ligaments or joint injuries.
Step 4: Determine which diagnostic tools to use
The location of the lameness influences the type of diagnostic tool we use. For instance, an "Equine X-ray" (digital radiography) is used for areas such as the joints and bones and shows us subtle lesions that might be causing the discomfort. An ultrasound (ultrasonography) can show us inflammation and tears in the soft tissues such as muscles, tendons, and ligaments.
The challenge we face is that neither the X-ray nor ultrasound can penetrate the hoof wall and therefore do not enable us to view the small complex structures in the foot. Using advanced imaging such as an Equine MRI, we typically find multiple injuries within the foot, which is understandable as the enormous forces acting on the foot dissipate into all of its tissues.
This limitation of X-ray or ultrasound also applies to very large joints such as the stifle joint, which are difficult to examine due to the large muscles surrounding them. Some soft tissues, such as the suspensory ligament, are also difficult to image because their architecture (partly made up of fat and muscle) is much more complex than that of tendons and other ligaments.
Step 5: Is an equine MRI scan needed?
The MRI is the gold-standard for soft tissue evaluation. We are highly skilled and trained in MRI scanning and understand the value of longer scan times to produce high-quality, highly detailed images. That is why we purchased our Esaote Vet-MR scanner.
A standing MRI provides substandard imaging quality due to short scan times and software that tries to correct for the motion of a standing horse. With our Esaote MRI scanner, because the horse is anesthetized, we're able to ensure there is no movement that can degrade image quality while ensuring the horse's safety. With this level of imaging and our expertise, we're able to create a clear treatment plan for your horse's lameness.
For injuries or issues in the bone, the nuclear scintigraphy or bone scan is an important imaging technique that allows us to examine active, and often subtle, bone injury or response under large muscle cover or along the spinal cord and pelvis. We commonly use bone scans to look for stress fractures, bone infraction, infections, and especially, arthritis of joints such as the facet joints between the cervical vertebrae in the neck of the horse.
Step 6: Determining Equine Lameness treatment options
We are firm believers in regenerative therapies, where applicable, minimalizing invasive treatment. Dr. Vidal and his team are pioneers in equine stem cell research and administration and there are thousands of success stories regarding the anti-inflammatory effects and accelerated healing provided by stem cell therapy. However, if required, our skilled equine surgeons will explain surgical options to you.
Equine Lameness Evaluation Process Summary
As you would expect, each of these steps is unique to your horse, their lameness symptoms, and your plans for the horse in terms of activity. We work with you every step of the way to ensure that your horse receives the best care possible.
---
Slow Motion Video Analysis
Horse Lameness Evaluation Videos
Slow motion video analysis is another tool that is very helpful to assess subtle lameness issues in a horse. It is an invaluable tool to a reliably assess and monitor the response to nerve and joint blocks as well as treatment and rehabilitation.