As humans, we know how much our eyesight is important. Our eyes are our guide to our daily lives. It is the same with our equine companion. Their eyesight also needs to be in the best condition. So, they have to be regularly checked and taken care of.
Horses' eyes are relatively large and they tend to be more exposed to irritants around them, not to mention the type of environment they would usually be situated in. Horse eye problems are a common health issue to be aware of.
Firstly, you would know that your horses' eyes are in good condition through observing. When tearing up is just normal, excessive tearing means that irritation is already occurring. Frequent squinting can also be a sign of irritation in your horse's eyes. A healthy horse's eyes should be bright and clear with only just about a droplet of tear around the corners and no other discharge.
You would also know if a horse is experiencing eye
infections because they would usually shy away from
being examined and would turn their heads when you want to take a look at them. They would avoid getting examined.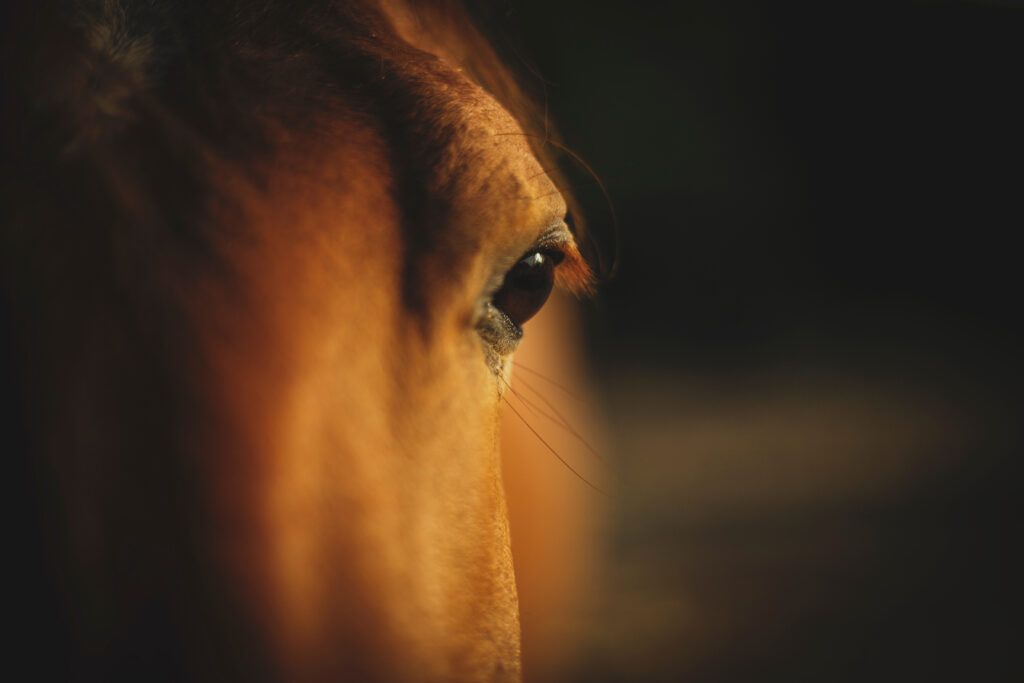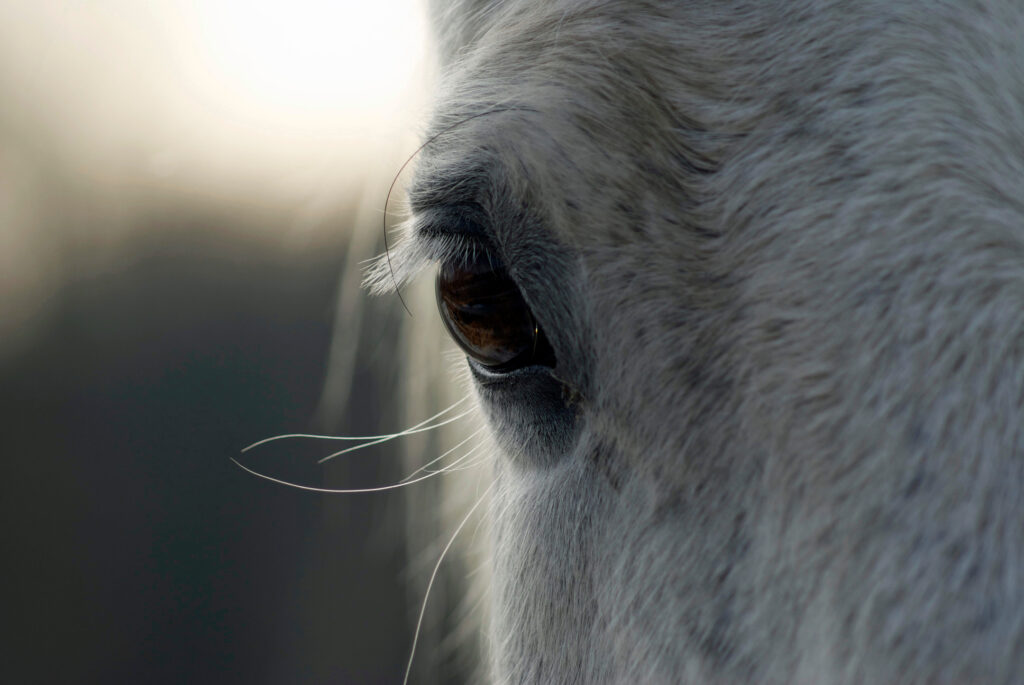 COMMON EYE PROBLEMS IN HORSES
Horse eye problems can definitely be prevented if you know what you're looking for. Wounds would be easy to detect. As mentioned earlier, because the horses' eyes are more exposed to irritants from the environment, scratches in the eyes are common.
In some cases, tearing up and swollenness may occur. Wounds can be caused by foreign bodies that can get
caught inside their eyes like hay, dust and even pollen can cause irritation and wounds. Some of the most
common wounds include:
This is usually a scratch or a wound at the cornea. Depending on the degree of the wound, eye ulcers in horses
can affect even the inner layers of the cornea. They can progress as time passes. Ulcers in the cornea can be very
painful for horses. They would manifest the pain they are experiencing making it easier for you to tell. Tearing,
squinting, or closing of your horse's eyes are some of the most common signs they are experiencing Corneal Ulcer.
If these behaviors are observed, do not hesitate to contact our veterinarians.
Another common eye problems in horses is eyelid lacerations. Your horses can unavoidably rub their heads and eyes on things around them. Things like the fences, trees, and
even buckets in the stable can be a reason for lacerations. Usually, lacerations happen on the upper eyelids since
they are the more exposed part of the eye. The horse's upper eyelid is an important part of their eyes, it provides
lubrication to the eyes and wounded eyelids can disturb this process and may end up in more eye irritations.
Eyelid lacerations need to be treated as soon as possible. Some would even require surgeries and stitches. When
lacerations are visible on your horse, call your veterinarian right away for an immediate cure.
CONJUNCTIVITIS (PINK EYES)
It is also a type common eye infection that occurs in horses. Conjunctivitis can be caused by bacterial infection
from irritants around them. Then the horse tends to scratch their eyes with their knees or against surfaces around
them. This causes more infections to their eyes. Because horses' eyes are usually dark and their pupils are larger,
detecting this condition can be tricky.

However, signs like the previously mentioned, scratching can be key indicators that your horse is experiencing
Conjunctivitis. Symptoms like excessive tearing, sensitivity to light, continuously squinting of the eyes, redness
around the corners of the eyes, and other discharges can be seen.

At the onset of these symptoms, you can flush away irritants through eye products for horses. This way you can
prevent more infections from happening. But of course, seeking immediate consultation from your vet is the best
way to ensure your horse is recovering well.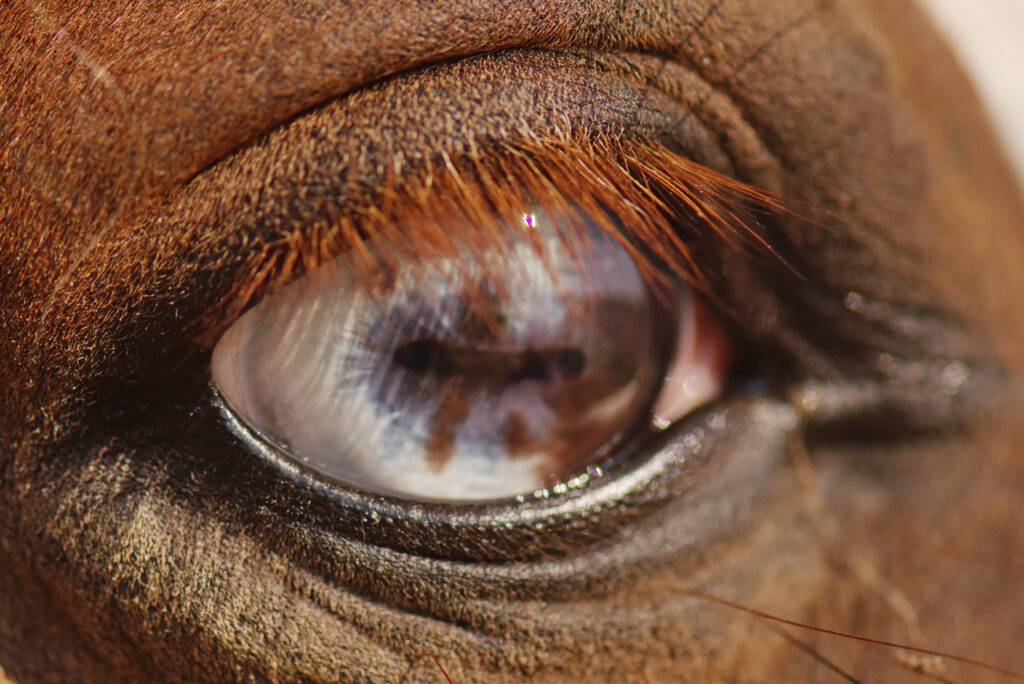 CONJUNCTIVITIS (PINK EYES)
Another one of the horse eye problems to be aware of is, Uveitis. It is also popularly called Equine Recurrent Uveitis. This is one of the most common eye problems in horses.
According to an article by UC Davis Veterinary Medicine, up to 25% of horses are affected by Uveitis globally and,
56% of these affected horses eventually get blind from experiencing this condition.

Uveitis is usually caused by infection or sometimes due to unknown immune responses. Early indicators of ERU are
tearing, redness of the eyes, and squinting.
THERE ARE 3 KNOWN CLASSIFICATIONS OF THIS DISEASE:
Classic: this can be seen through periods of inflammation in the eyes. Which fluctuates to no visible inflammation on other days and back again. This repetitive condition makes it damaging your horses which causes the bigger problem of blindness.
Insidious: Insidious ERU is seen in horses who experience persistent low-grade infections in the eyes. Though not always inconvenient to the horses, if not addressed early, it can cause degeneration.
Posterior: this type of ERU is characterized by inflammation at the back of the eye which in the long run also causes retinal degeneration
This is also a common eye problems in horses. These are caused by flies that get in contact with your horses' eyes. Flies can be the main vehicle for worm larvae to transfer into horses' eyes. Flies are the ones who carry these larvae which then get deposited into the eyes. It takes 10-11 weeks before the larvae mature and breed again, creating a cycle of living within your horse's eyes.
These eye worms can be found breeding near tear glands, the conjunctival sac, the eyelids, and the cornea. At the start of the infection, you won't be able to detect it as not many visible signs can be seen. However, in the latter part, signs like inflammation, cloudiness in the cornea, sores, swelling, and permanent fibrous tissues can be observed. Your veterinarian can help you remove these eye worms by plucking out visible ones with forceps. Wherein you can follow up with the healing process by flushing your horse's eyes with iodine solution and antibiotic ointments as prescribed by your
veterinarian.
COMMON EYE PROBLEMS IN HORSES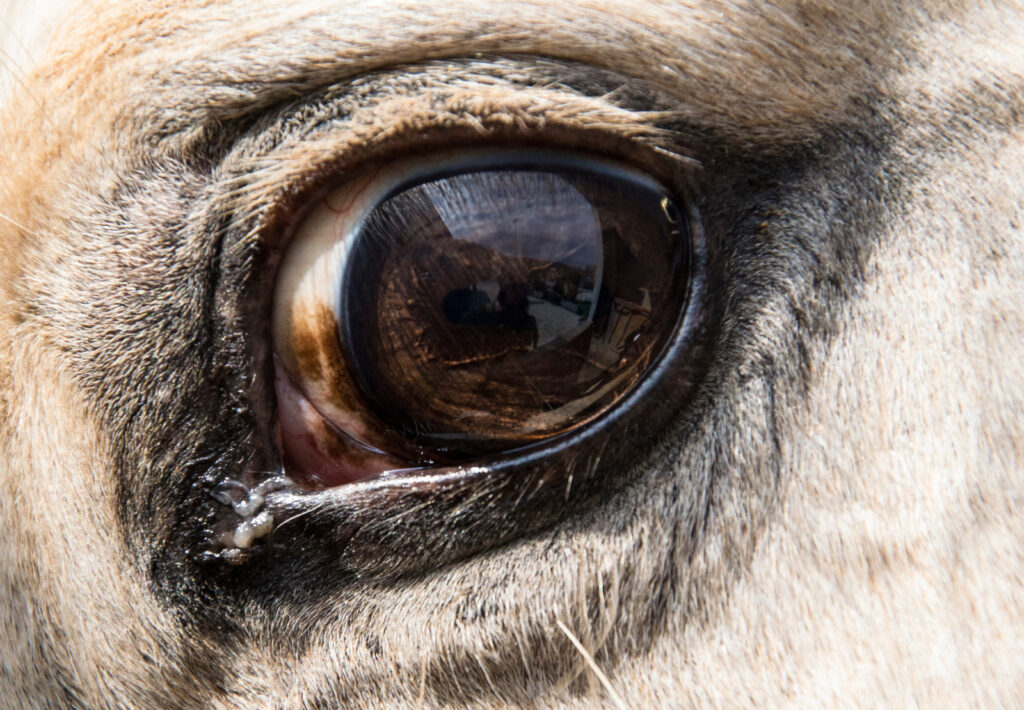 In most of the horse eye problems, a horse can experience,
the signs are pretty much the same. Whether they are in
the early stages of the infections has been experienced
for a long time already, the most common symptoms
that you need to watch out for are:
SWELLING,
REDNESS,
CUTS ON THE EYELIDS,
CLOUDY OR HAZY EYES,
EXCESSIVE TEARING,
VISIBLE DISCHARGES AND PUSS,
TUMORS,
AVOID BEING TOUCHED AT THE HEAD.
If these are noticed in your equine, seek the help of your
veterinarian. Consult what can be done even if you see
minor problems. These can build up if not taken care of
early.
These eye infections can be caused by a lot of factors.
However, the three main irritants which are usually the culprits of horse's eye irritants are:
POLLEN THAT IS TRANSMITTED THROUGH THE AIR,
DUST FROM THE HORSES' SURROUNDINGS
FLIES THAT GET IN CONTACT WITH YOUR HORSE'SEYE AREAS.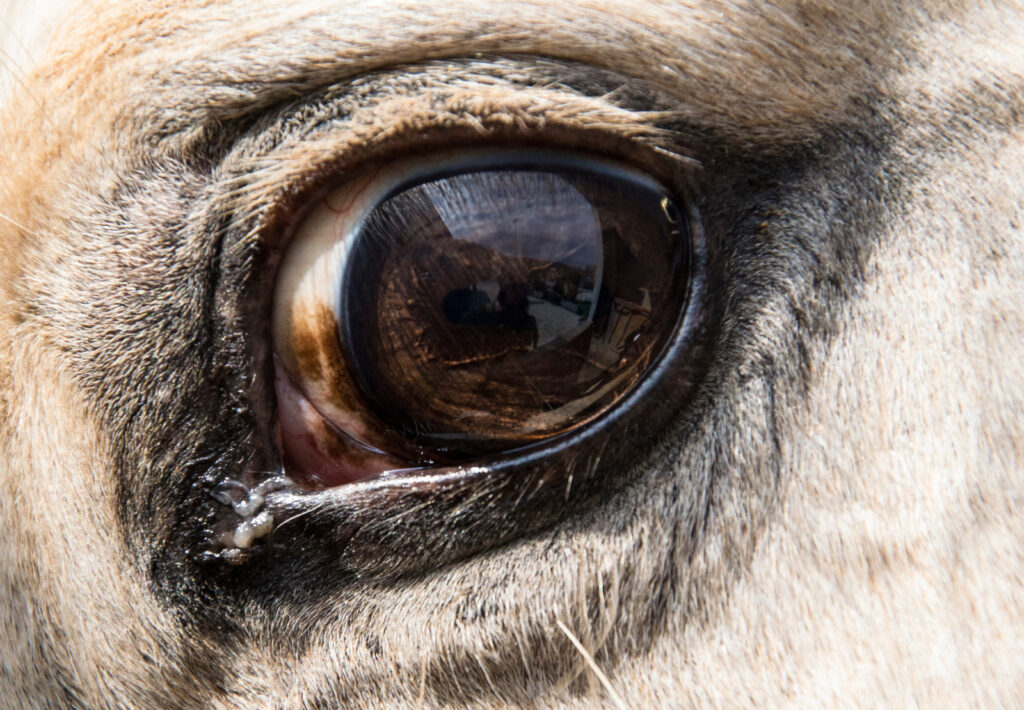 COMMON EYE PROBLEMS IN HORSES
irstly, you must check your horse's eyes regularly. It is recommended that you check their eyes at least twice a
day. This way you can closely monitor how your equine's eyes are doing daily.

In the event of pollen and dust build-up, you can flush them off with products that are manufactured for equine
eyes. A good saline solution will do. Do this twice a day to make sure you keep their eyes constantly clean.
If a foreign body gets caught in your equine's eyes, experts would suggest that you should not remove it on your
own and let your vet pluck them out for you. This is because plucking them out on your own can cause more
infections or other problems.

Other preventive measures can be done like, wearing a fly mask to avoid fly contamination as well as avoid dust
and pollens.

Our equine friends are so important to us. We achieve and do things together, which is why taking good care of
their eyes is also a very important task for us to do.

Need to have your horse's eye condition checked? Book an appointment with us! We will take care of your horse!
Crave Creek Equine is a forefront institution in giving you the best possible care for your horses. We are here to
help take care of your lovely horses with a caliber team and using the top of line equipment and technology.
Please do not hesitate to contact us! We offer our equine veterinary services to horse owners in Scottsdale, Cave
Creek, Carefree, Desert Hills, New River, the greater Phoenix area, and all the Westside area (including
Wickenburg, Wittman, etc). Get to know more about Cave Creek Equine and our services.
References:
Is There a 'Right Kind of Salt' for Horses? – The Horse | Behind the Label of Quality Horse Supplements (brlequine.com) | How to Choose Quality
Nutritional Supplements for Your Horse – The Horse | Hot Weather Horse: Summer Tips for Proper Horse Care | NASC LIVE | National Animal Supplement
Council | NASC | Combat Summer Heat and Preserve Nutritional Quality of Total Mixed Rations (TMR) (kemin.com) | Choosing Forages for Horse
Pastures – The Horse | Electrolytes – Kentucky Equine Research (ker.com) | Drinking Behavior of Horses: Six Facts About Water Intake – Kentucky Equine
Research (ker.com) | The Basics of Equine Nutrition (myhorseuniversity.com)