Traveling with your horse
Traveling on the road with your horse can be really challenging. Now do not get us wrong, traveling with toddlers can be quite the challenge too. The planning and preparation before the trip can already wind you down considering that you have a lot of things to pack and think about, such as clothes, pampers, milk, playthings, and car seats. But when that toddler is a horse, the work is also very important because, like any child on travel, horses need a lot of gear to weather a long road trip (Equine Network, 2022).
In general, most can handle a couple of hours locked up in a metal box. But whether the trip is long or short you need to do a little planning and a lot of prep work. And it requires a lot from the horse and a lot from you.
So here are our tips on how to take care of your horse on the road.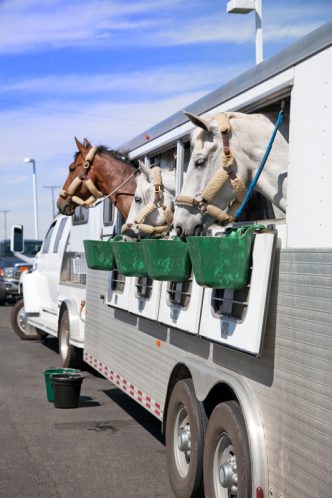 How to take care of your horse
when traveling
Make a check-up before the departure
A healthy horse is a happy horse, especially when traveling. So, make sure that in preparing for departure, your horse has undergone a check-up with the vet. According to Equine Network, colic is a very real threat on long trailer trips, so get all vaccinations and boosters done at least two weeks before your trip to allow them to take effect. Keep an extra close eye on the horse in the days leading up to departure to be sure no illness, such as diarrhea or dark urine.
Try to keep your horse habits
Horses like consistencies. But when you haul your horse to where they practice or to a competition, the different environment and surroundings can really mess him/her up. Obviously, you cannot keep things exactly as it is at home, so the key word here is to try to keep doing it. So, during your preparation on what to bring, keep the same hay and the same water container, and consider its location in the trailer.
Also, Equine Network recommends not forgetting a check-up of the trailer and the tow vehicle. Get the oil changed and have the fluids, belts, and tire pressure checked in the tow vehicle too. Take the trailer to the dealer for a pre-flight check or do it yourself if you're competent in such things. Be sure that the tires are good. Simple things like this will really help maintain a consistent and smooth environment which will condition the horse and even yourself for a way better trip.
Of course, the most fundamental tip is to always keep food and water in front of your horse. So, every couple of hours when you need to stop, make sure they still have water and food. It is a simple thing but with complete water and food, it eliminates a lot of problems that you may experience down the road.
But there are also cases when you may have horses who won't drink water while traveling which will then lead to dehydration, and we do not want that.
Equine Network recommends taking along some water from home or start adding a little molasses or drink flavoring to your horse's water at home a week or so before you leave. Take some along to add to the water he will encounter along the way and at your destination.
Keep your horse comfortable
Comfort is your horse's best friend, next to water and food. Keeping your horse as comfortable as possible is also a priority, especially on long road trips. You would not want your horse to just stand on solid hard ground for long periods of time. What you can do is you can put some shavings on the trailer – perhaps an inch or two of shavings. If you do not have shavings just make sure that your horse has hoof boots or some protection on his/her feet.
Also, when hitting bumps and breaks on the road you would want your horse to be able to get back in the right direction. And according to the Equine network, the question of whether to tie a horse in the trailer is controversial – everyone has his/her opinion. The type of trailer may have something to do with the decision but, in general, it's probably best to tie. If you tie the horse, use a leather halter, not a nylon one. It's better to err on the side of safety and have the halter break and free the horse if he gets into a dangerous position inside the trailer. Use tie ropes with panic snaps. And always have a sharp pocketknife on you so you can cut the tie and free a horse in an emergency.
Give your horse some breaks
When you stop, your horse needs to stop too. It is recommended to keep a camera at the back so that you can easily check on your horse, especially when it is time for him/her to relax, lay or let out. There are a lot of inexpensive cameras that you can buy and put in your truck and trailer. But if you do not have this luxury, just make sure to always check on your equine companion when you stop. The idea is when you need to stop, your horse probably needs to stop too. You can get out and let your horse relax as much as possible. Let him/her get out and walk around or just have him/her lay down, he/she doesn't need to be tied up more than he/she needs to be.
When you stop at gas stations, you may want to stop at the ones that are really big, with water pumps. And, it will be helpful to do that to replenish your horse's supply of food and water. But make sure to run the water first before giving it to your horse because those water pumps may not have been used for a really long time.
A first aid kit is a must
Make sure to have a first aid kit in your horse trailer so that you are equipped for any emergencies. Because when traveling most of the time you are not accompanied by a veterinarian, and even if you are, it is always good to be prepared for any emergencies down the road.
Your travel plans should be made to avoid heavy traffic conditions – such as rush hour in big cities, construction, and areas of high traffic congestion.
No matter where your destination is, proper planning and anticipation of problems you can encounter on the road can result in a safe journey. There are many enjoyable destinations and trips for you to consider but there are also a few problems that can occur if you don't plan your trip carefully. Anticipate all possible problems and plan to avoid them.
Cave Creek Equine is a forefront institution in giving you the best possible care for your horses. We are here to help take care of your lovely horses with our high-caliber team using our top-of-line equipment and technology.
We offer our equine veterinary services to horse owners in Scottsdale, Cave Creek, Carefree, Desert Hills, New River, the greater Phoenix area, and all the Westside area (including Wickenburg, Wittman, etc). Get to know more about Cave Creek Equine and our services.
References:
Traveling with Horses (equisearch.com)