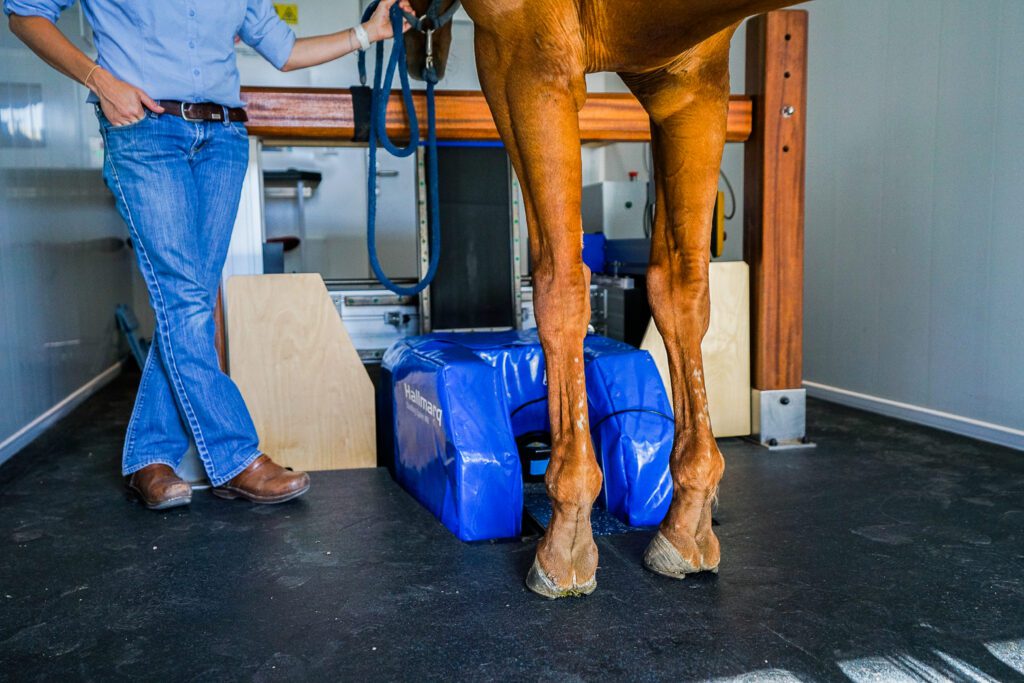 The Hallmarq's Standing Equine MRI system (sMRI) has the advantage of allowing the gently sedated horse to remain standing throughout the procedure thus negating the need for general anesthesia. When doing this equine MRI scanning the patient is simply walked into the machine which captures hundreds of images quickly, accurately, and most importantly, safely.
LAMENESS DIAGNOSIS USING THE HALLMARQ STANDING EQUINE MRI SCANNER
The sMRI yields an effective diagnosis through a highly detailed examination of the different structures of the lower limb, up to and including the carpus and hock. It is proven to be particularly useful in the evaluation of diseases of the foot, including the 'umbrella term' of so-called "navicular disease" and in emergencies from penetrating injuries to fractures. This non-invasive procedure can also provide valuable information about more proximal areas of the limbs such as fetlock, knee, and suspensory ligaments.
THE EQUINE MRI SCANNING PROCEDURE
A typical equine MRI scan takes between 2-4 hours depending on the area being scanned and the cooperation of the patient. For your horse's comfort and safety, therefore, we limit the number of MRI studies per patient per day. 
Made up of multiple sequences, the typical standing MRI scan will usually take between 1-2 hours and produce around 300-500 images of the region of interest, taken from multiple angles with several different types of sequences, each providing different pieces of information about the structures in the area of interest. This enables our veterinarians to provide a comprehensive diagnosis and tailored treatment plan.